Lecture
Curated By… Anthony Burrill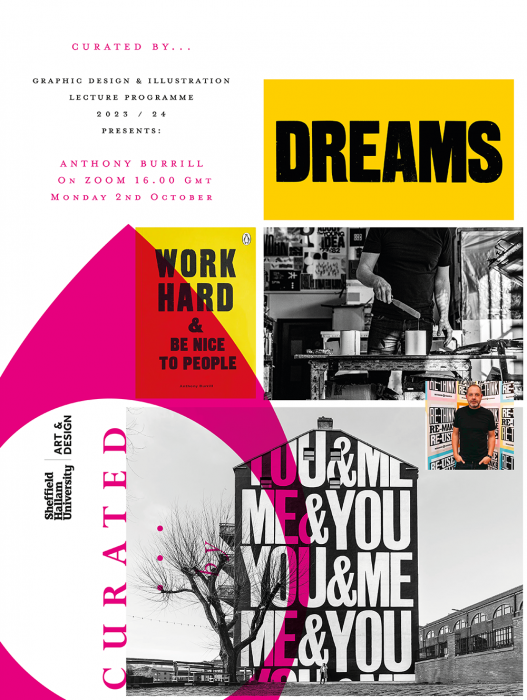 Curated By… Anthony Burrill
Monday, 2 October 2023
Zoom
Graphic artist Anthony Burrill combines a knack for simplicity that packs a punch with analogue craft skills and powerful, positive messages. Burrill frequently collaborates with other forward-thinking creatives across disciplines spanning music, architecture, curation, education and more; pushing his traditional discipline of choice, letterpress printing, into bold new territories.
Words, gentle humour, no-nonsense communication and people are at the heart of Burrill's practice and his distinctive brand of upbeat messaging: its core DNA is one created through a longstanding passion for creativity without limitations, the power of simplicity and an innate curiosity about the world and people in it.
His work is held in the permanent collections of the V&A and The Design Museum in London, The Cooper-Hewitt in New York and has been exhibited in galleries around the world including The Barbican Gallery in London, The Walker Art Center in Minneapolis, The Triennale in Milan and The Stedelijk Museum in Breda.
He has spoken at international design conferences in London, Dublin, Bergen, Berlin, Barcelona, Mumbai, Seoul, Bangkok and led creative workshops in São Paulo, Nairobi and Venice.
Burrill was born in Littleborough, Lancashire. After studying Graphic Design at Leeds Polytechnic he completed an MA in Graphic Design at the Royal College of Art, London. He now lives and works in Rye, East Sussex.
Free, please register here
Hover on an image to show project