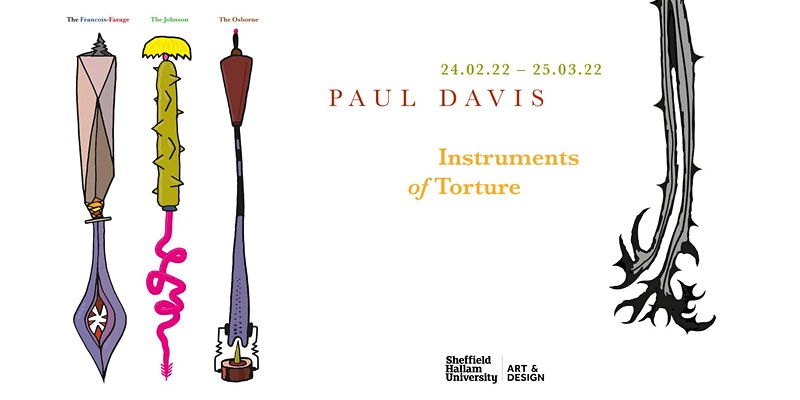 Paul Davis
Instruments of Torture
Thursday, 24 February 2022 - Friday, 25 March 2022
Post Hall, Old Head Post Office, Sheffield
We are delighted to host an exhibition of new work by Illustrator and artist Paul Davis, Instruments of Torture.
'It's about how marvellously designed, potentially life-saving medical instruments can turn into instruments of torture when in the wrong hands.'
How can you tell if they are in the 'wrong hands'?
'When the instruments do the opposite of what they're supposed to do. Metaphorically as well as literally.
In the wrong hands these instruments could be used not to perform miraculous procedures to heal and expedite recovery (keyhole surgery is a good example of brilliant design perfectly marrying form and function) but become objects used by sadistic sociopaths who think they're cleverer than the average human and get so lost in their own monstrous egomania they become nihilistic and destructive when they should be the sympathetic adherents of social care.
If you look at a medical instrument––with all its sharp edges and spikes––you can imagine how easy it would be to misuse.'
An artist and illustrator, Paul Davis turns his eye to the quirks of daily life many of us take for granted. He sees humour and poetry in everyday language, working with an economy of means which yet communicates so much. As Rick Poynor has written:
"In some ways, Davis works like a journalist with notebook in hand, looking for clues to what people are thinking about now and what makes them tick. His drawings may be reduced to a few simple elements, offering the viewer a deceptively quick hit, but he has an unerring ability to delineate – and flay – a personality with just a few incisive strokes."
Paul Davis has exhibited internationally and worked for clients including IBM, Virgin Atlantic, Soho House Group, Mercedes, BMW, The Economist. His work has been published in The Guardian, New York Times, The New Yorker, Vogue, Creative Review and Time Out.
Exhibition continues until 25th March, Monday-Saturday, 10am-4pm.