Emotions in my Repetitive Life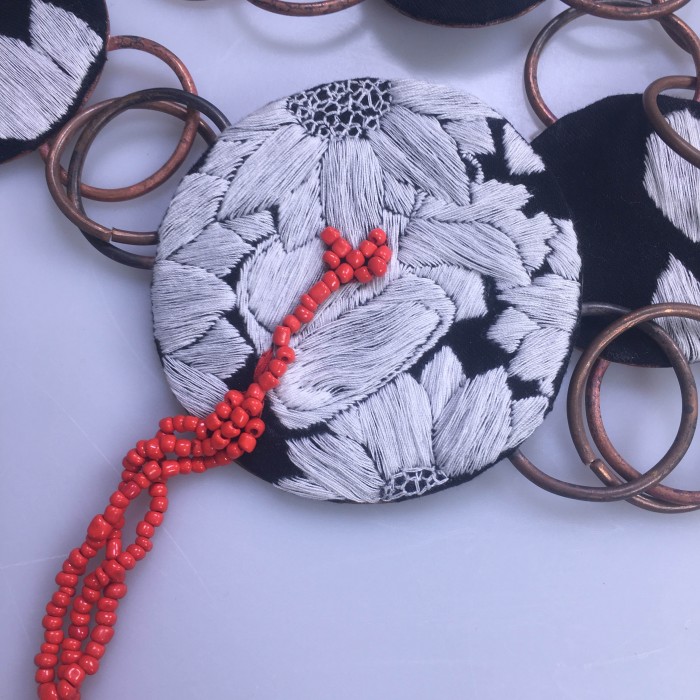 Emotions in my Repetitive Life
The port that no one cares about is always full of flowers
无人问津的港口总是开满鲜花
The original intention of this concept is to describe people's attitudes: "Some people are very kind and good, no one sees them, but they still 'beautiful'" and the emotional state "The people who care about you always have sugar in their pockets. They know how big the world is, but they just want to take care of you."
To express his understanding of this, Danny Tang used traditional Chinese culture Craftsmanship of Chinese embroidery. He used soft, repurposed materials such as his old clothes that presented warm textures. He then chose to use sunflowers that represent 'silent love'. In the middle of the piece is a bleeding heart as emotional changes affect the heartbeat, and people always associate inner emotions with the heart.
Procrastination 懒癌晚期
A few years ago, Tang heard a fable about the truth of life. The man fell off a cliff but clung to a honeycomb branch. There is a dragon under the cliff that can eat him at any time. At this moment, honey from the branch dripped into his mouth, and the sweetness made him forget the dragon under his feet.
Procrastination is similar to this, delaying and struggling with what needs to be accomplished. Procrastination can negatively affect emotions due to delaying the inevitable, but the habit is difficult to break. This series of works express the stupidity that is difficult to wake up from and the beautiful illusion that is difficult to let go of.