Fashion Design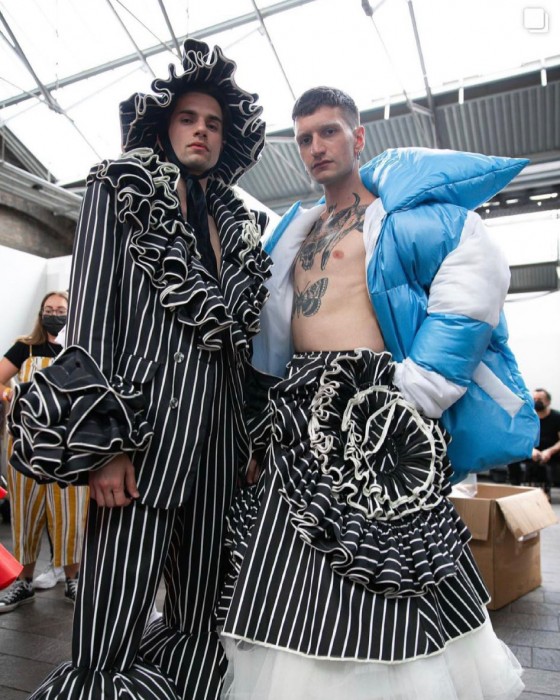 Fashion Design
Foreword by Lee Harding
The Fashion Design Graduates of 2021 could possibly be described primarily as resilient, demonstrating continual adaptability across the ongoing adjustments to study. Resuming a final year that offered much uncertainty, they have been able to forge new ways of exploring their practice, working autonomously to reach personal goals, while still able to take creative risks.
A large number of this year's graduates completed the Applied Professional Diploma placement year in various locations; London, Berlin, Antwerp for the likes of Christopher Kane, Erdem, Amanda Wakeley, Berthold, Jenny Packham, Flora Miranda and Damur. Combined with skills taught throughout their study and valuable insight into working practices, this cohort has achieved greatness and equipped to undertake their place in the creative industries.
Students have participated in a variety of national and global platforms including the online showcase with ShowStudio Class of 2021, a series of digital events and talks with leading industry professionals. The British Fashion Council continued their prestigious Graduate Preview Day online, attracting an industry-wide audience. We are also immensely proud of Mathilda Harvey, Sophie Wilkinson-Cooper, Emily Bakewell, Estere Onzule, Olivia Creighton and Anna Taylor all shortlisted for Graduate Fashion Foundation Awards, each invited to London to be interviewed by leading industry panels, resulting in success for Olivia Creighton winner of the ASOS Best Digital Portfolio Award. We are also delighted that we are one of the few UK universities to showcase students work on the scheduled Catwalk in London in June alongside a physical showroom and portfolio exhibition.
Overall it has been a year like no other, but the continual success of our students is a testimony to their drive and ambition to succeed, Well done Class of 21!
Lee Harding is Course Leader, BA (Hons) Fashion Design